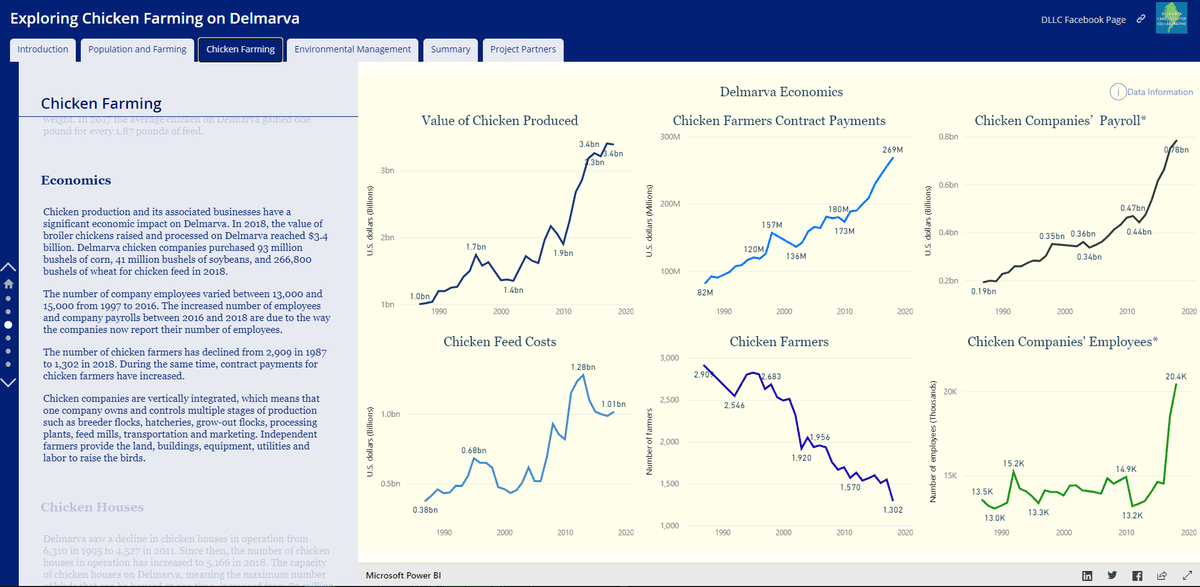 ---
Date Completed
October 2019
Partners
Mid-Shore Regional Council (MSRC)
Delmarva Land and Litter Collaborative (DLLC) and many DLLC members
Solutions
Data Research
Data Visualization
Dashboard
Web Design
Graphic Design
Exploring Chicken Farming on Delmarva
---
Exploring Chicken Farming on Delmarva is an effort not only for public education but to create common ground and a starting point for diverse audiences to discuss the chicken industry on Delmarva. The online tool utilizes dashboards, web mapping applications, and a detailed narrative to describes the changing landscape of agriculture and chicken production on Delmarva, comparing and contrasting local trends to those occurring at a national scale within the chicken industry. The StoryMap explores related topics, including population, environmental management, and the production, efficiency and economics of chicken farming.
"Our goal is for people to see the data all in one place so they can gain a better understanding of the changes in population, development and the chicken industry on Delmarva over the past 30 years," said Bill Massey, DLLC member and VP of Live Operations, Mountaire Farms.
Chris Bason, Executive Director for Delaware Center for the Inland Bays and DLLC member, stated: "Anyone living on Delmarva has wondered about the growing poultry industry and its effects on our lives. This fascinating display of data paints a picture of an expanding industry that has undergone an efficiency revolution on the fields and in the houses. The most visible indicator to the general public confirms that the number of poultry houses has indeed dropped over the past few decades while the capacity of the houses overall has increased - a sign of consolidation reflected throughout the industry.